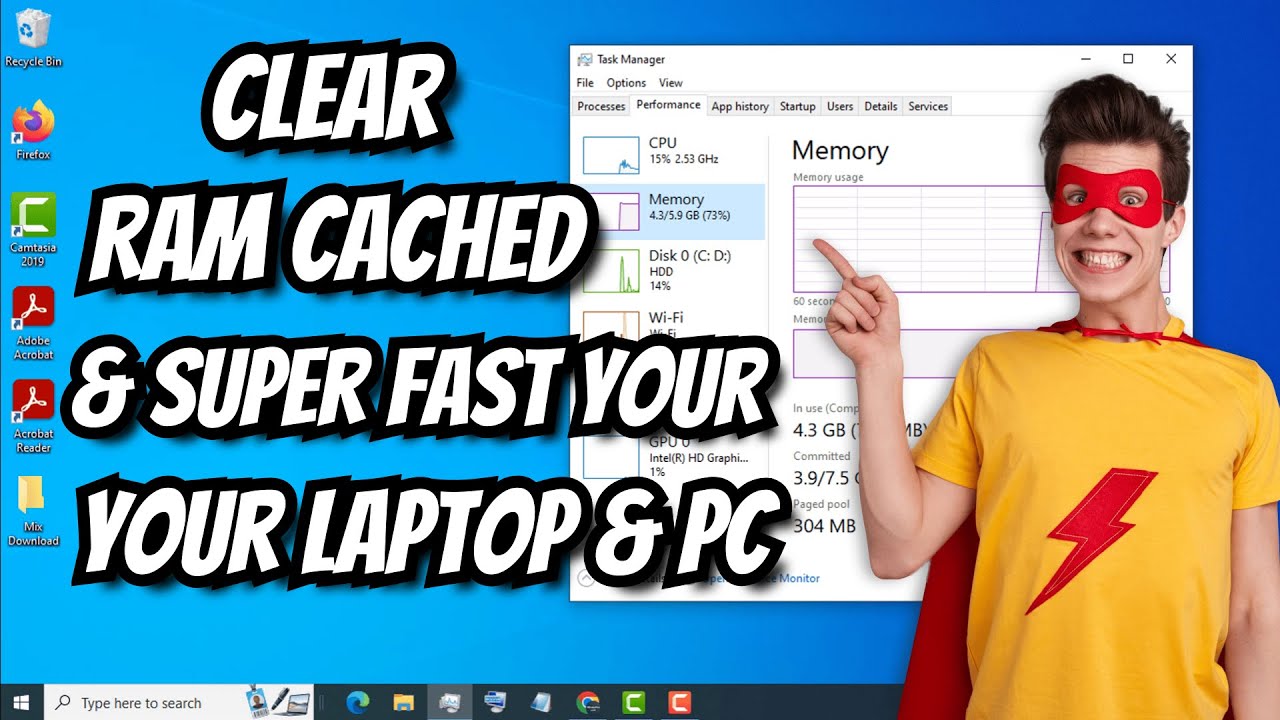 https://youtu.be/8J-q-zx-zCs
Learn How to Clear RAM Cache in Windows Laptop and PC. Super Fast Your Laptop and PC
Hello Guys, in this video I will be explaining, how to clear the RAM cache on a Laptop or PC, This method works on Windows 10, Windows 11, or any Windows version you have on your laptop.
now this is really frustrating when our laptop or PC lags or runs very slow, just because of the cached memory, and we all want to get rid of this issue as soon as possible. and I am sure that you are here for that also, so now let me share with you, the very easy method to clear the RAM cache and boost your Windows laptop performance.
now first open Task Manager, If you don't know how to open Task Manager, then simply search here, Task Manager, and click on Task Manager, if you see this type of screen, then simply click on more details.
now click on performance, and click on memory, now here you can see the cached, right now we have this much RAM cached, so if we clear this RAM cached, our laptop performance will boost. so let's clear the RAM cache on our laptop.
first of all open any web browser, and search for ram map download, now click on this link, Don't worry, this is the official download link for Microsoft Windows laptops and PCs. Click on download RAM map. now the file is downloading on our laptop.
Once the file is downloaded, simply click on it and then click on show in folder, now simply right click on the zipped file and then click on Extract all, click on extract. now simply head over to ram map, make sure you select this one only, now right-click on it, and click on run as administrator. click on accept, now we will get this type of small ram map application box.
Now I will show you, how this ram map clears the ram cache from our Windows laptop and PC. simply click on empty tab. then click on empty stand by list, once i click on it, we can see our "ram cached" clear from our laptop. here you can see our "ram cahed" reduced, and this helps to boost performance on our Windows laptop and PC.
now that's all for now. Thank you for watching this video, if you think this video is helpful then please like and share this video, If you have any doubt on "how to clear the RAM cache on a Windows Laptop or PC" then please leave a comment below.
how to clear ram cache in windows 11
how to clear ram cache in windows 10
how to clear memory cache windows 10
how to clear memory cache windows 11
clear ram cache windows 11
clear ram cache windows 10
reduce memory usage windows 10
reduce memory usage windows 11
how to free up ram usage windows 11
how to clear ram memory windows 11
how to clear ram cache windows 11 cmd
rammap windows 11
rammap how to use
make computer faster
fix high memory usage windows 11
how to speed up windows 10
speed up windows 10
speed up windows 11
speed up windows 7
speed up windows 10 laptop
speed up windows 10 performance
speed up windows 10 pc for maximum performance
speed up windows 11 laptop
how to make windows 11 faster
how to make windows 11 faster in 4gb ram
how to make windows 10 faster
speed up computer
windows 10 pc hang problem
https://youtu.be/gbJr0Cv95n8
https://youtu.be/klu47EDvCHo
https://youtu.be/9JYzFQy8eeI
https://youtu.be/CjV1MYDypws
https://youtu.be/SdAVlu1Q3nA