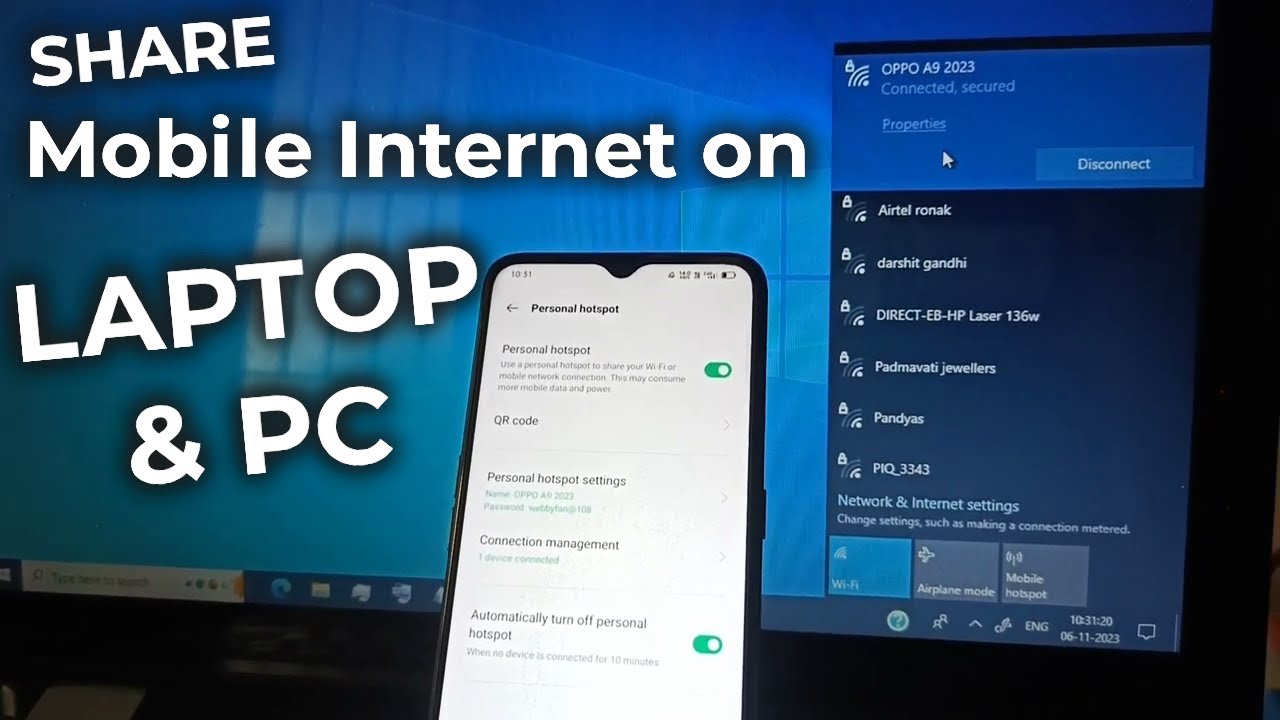 (OPPO MOBILE) How to connect internet from mobile to PC or laptop via hotspot https://youtu.be/OjTxXwyHppQ
Learn How To Connect Internet from Mobile to PC via hotspot using oppo mobile | how to use internet on computer via Mobile phone
Like & Share this Video https://youtu.be/9JYzFQy8eeI
✪ how to connect internet from mobile to PC via Bluetooth
https://youtu.be/oMzV98a1amk
✪ How To Connect Internet from Mobile to PC Via USB Cable
https://youtu.be/7wx4FIplPZA
✪ Steps to Use Mobile Internet on PC
- First Enable Hotspot in Mobile
- Open Your Mobile Settings Page
- Find Hotspot Option
- Open Hotspot
- Turn on Hotspot and Set up Username & Password for that
- Now Open Your Laptop or Computer
- Turn on Wi-Fi
- Now You can see your mobile hotspot network
- Simply Connect with your mobile hotspot username and password
- Done.
✪ Helpful for Related Search Terms
how to connect mobile internet to pc, easy way to use your mobile internet in your PC, easy ways to get mobile internet access, how to connect android mobile phone to PC for internet, how to use internet on computer via android phone, share internet, mobile, how to, internet, Hotspot, wireless, how to connect internet from pc to mobile via hotspot, Wi-Fi (brand),internet access, share internet via WIFI, how to connect hotspot to computer, how to connect hotspot to laptop
✪ More Videos
How to take a screenshot on laptop
https://youtu.be/gbJr0Cv95n8
Track Mobile Current Location ?
https://youtu.be/GnfRejdlK8g
Check Who's Using My WIFI?
https://youtu.be/Vlx6qX8WNJA
Change Default Download Location to SD card in Android
https://youtu.be/jXM1PtEeYbE
How To Install Google Play Store App on PC / Laptop
https://youtu.be/y2JNXc3hchw
How To Disable Notification On Google Chrome
https://youtu.be/UR6VflYoDjo
Remove All Subscriptions on YouTube At Once
https://youtu.be/h4_aQi-oJqc
How To Install PicsArt App on PC
https://youtu.be/LejBzmNSQ-E
unlock android phone When you forgot your password
https://youtu.be/1GNGeS0KAkA
Delete A Folder Files That can't Delete on Windows
https://youtu.be/T36VLX4Mk8w
Fix This Site Can't Be Reached on Chrome
https://youtu.be/VnYv9d8m3cg
✪ Create Website @ Low Cost
http://bit.ly/2pghD4R
✪ Official Website
https://www.webbyfan.com
#ConnectInternetfromMobiletoPC #Mobile #PC #Internet #WiFi #ShareInternet #ShareWiFi #Computer